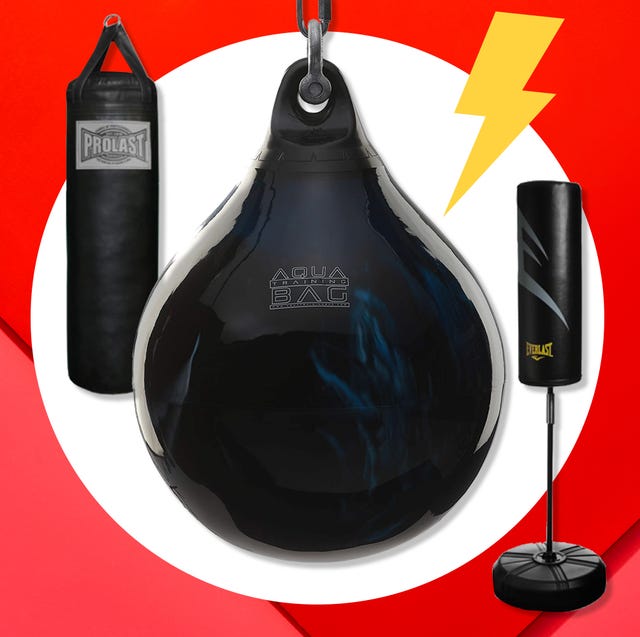 Christine Giordano
If you're looking for a full-body workout that combines strength, cardio, and agility, consider kickboxing. "It's so much more than just punching," says Semoura Villa, CPT, trainer at Rumble Boxing. "You're using your entire body to create momentum, speed, power and, in turn, burning so many calories while gaining strength. Plus, who doesn't like to hit things?"
Sounds like the ultimate stress-reliever, TBH. And while shadow boxing (think hitting the air) is an effective way to learn the technique, upgrading your home gym set-up with a punching bag is guaranteed to pack more power into your punches. "Once you add a bag into the mix, you'll tweak your technique and bag position, and, in the process, get better at boxing."
Of course, that requires finding the right bag for you and your at-home sweat sitch. After all, there are *so* many types of bags out there, from hanging bags to free-standing bags—and a whole slew of materials and fills to choose from.
The first major decision to make is whether you want a free-standing or hanging bag. "I recommend hanging bags, but they're difficult to install and require a lot more space for permanent installation," says trainer and boxer Taylor Rae Almonte, CPT, co-founder of anti-racist wellness program ACTIV-ISM. If you don't have the space (or installation know-how), a freestanding bag can work—just find one that's at least half your body weight to ensure it won't move around too much.
Next, consider what your bag is made of. Almonte is a fan of water-filled bags because they absorb your punches and feel life-like. However, sand- and synthetic-filled bags are also good options for stronger punchers, as long as the exterior is legit. "With leather bags, there's no tearing or cracking, unless you hit like the hulk," says Villa. "They truly stand the test of time."
Now that you know what to look for, check out these boxer-approved punching bags at every budget and experience level.
Advertisement – Continue Reading Below
1
Best Everlast Punching Bag
Everlast HydroStrike Water Bag
amazon.com
$149.99
$125.69 (16% off)
Using patented technology to absorb blows, this water-filled Everlast punching bag won't swing too much when you hit it (it's 100 pounds!). A favorite of Almonte's, it's light and portable, so it works really well for small spaces.
2
Best Water-Filled Punching Bag
Aqua Training Aqua Bag
At 120 pounds, this hanging bag won't budge too much, no matter how hard you punch it. Plus, because of its soft water interior, it won't hurt your wrists, making it ideal for building up resistance.
3
Best Punching Bag Under $50
Nubarko Unfilled Heavy MMA and Martial Arts Punching Bag Set
Although it's extremely affordable, that doesn't mean this bag isn't up to high standards. Covered with a cloth canvas and featuring intricate stitching, it's a winner with over 500 ratings and 4.1 stars on Amazon.
4
Best Adjustable-Weight Punching Bag
MaxxMMA Adjustable Heavy Bag
This adjustable heavy bag can range from 70 to 120 pounds, making it a great option for the whole family or for anyone who wants to progress their resistance over time. Get ready to get strong, fast!
5
Best All-In-One Home Boxing Kit
RDX Filled Heavy Bag Set with Gloves, Chain, and Wall Bracket
This heavy punching bag set comes with hand wraps, steel chains, and gloves. Its leather casing is resilient and durable, while the zippered bag closure allows for easy filling—note: it'll come pre-filled but has room to add more weight if you need a large level of resistance. 
6
Best Overall Free-Standing Bag
Ringside Tornado Free-Standing Punching Bag
A foam core interior allows this bag to provide great resistance and shock absorption. You can fill it with either sand or water, depending on how intense you want your hits to feel.
7
Best Long Hanging Bag
Prolast Kick-Boxing MMA Heavy Bag
If you're looking for a bag you won't have to jump up to kick, this four-foot-tall option fits the bill. Triple-stitched seams and reinforced nylon straps allow for durability, even when you're attacking it with all of your body weight.
8
Sturdiest Free-Standing Punching Bag
Title Hydro-Flex H2O Freestanding Heavy Bag
Well worth the price tag, this massive bag is almost six feet tall and has a durable core that allows it to slightly move back and forth as you punch it. It's super convenient when you don't have the space to place a hanging bag, but want a similar feel.
9
Most Portable Free-Standing Bag
Everlast Cardio Fitness Training Bag
This springy punching bag is great for fast-paced cardio workouts and is both portable and easy to assemble. Fill it with either sand or water, depending on your resistance preference. Either way, just be prepared for a responsive rebound to any (and all) punches.
10
Most Lifelike Punching Bag
Aqua Trainer Aqua Bruiser Bag
aquatrainingbag.com
$179.99
If you want to feel like you're punching an actual person (no judgment!), this is your bag. Created to mimic the head, shoulders, and torso of a six-foot tall man, it allows you to practice your aim and training moves as if you're in an actual boxing ring.
11
Best Speed Bag
Everlast Leather Speed Bag
This bag is made with super-tough leather to withstand all beatings and uses reinforced seams for added strength. It also boasts an unbeatable rebound time, so you can be sure to get your cardio on.
12
Best Smaller Hanging Bag
Aqua Trainer 75-Pound Aqua Bag
aquatrainingbag.com
$107.99
A smaller version of Aqua Trainer's staple bag, this easy bag is perfect for cardio. It's also great if you just don't have the capability or means to install a massive bag, since it can be moved around the house with ease.
13
Best Doorframe Punching Bag
Quiet Punch Play Bag
This funky alternative punching bag fits right into a door frame so you can practice your best moves without sacrificing tons of space. It even comes with an app loaded with workout inspo.
This content is created and maintained by a third party, and imported onto this page to help users provide their email addresses. You may be able to find more information about this and similar content at piano.io
Advertisement – Continue Reading Below